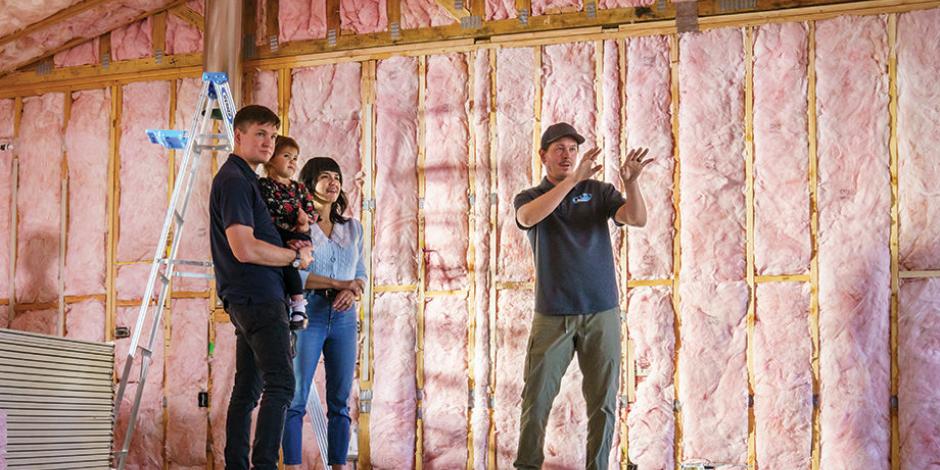 Insulation is an important piece of home efficiency and performance. In order for a home to be energy efficient, it has to be built right and it's air sealing and insulation need to perform efficiently and effectively.
Increasing Energy Efficiency of New Homes with Insulation
Hill Country Insulation provides home builders with insulation for their new construction projects. We use spray foam insulation to create a first layer, air seal, and then later fill in with fiberglass insulation. This process allows us to achieve high R-values that match or even exceed set standards. The highest quality insulation installed by the certified professionals at Hill Country will extend your new building's energy efficiency for years to come. Our aim is to increase the value of homes by making them high performing, energy saving and comfortable for their owners.
Insulation for New Austin Area Homes
We use insulation to create a solid building envelope from the very beginning since it's much more cost-effective to install insulation during the construction process instead of later trying to retrofit it into an existing structure. Using a combination of insulation types, we work to ensure new homes being built in the Austin area are well insulated and efficient from the start.
Hill Country Insulation: The New Construction Insulation Experts
Since 2008, we have been working with contractors to insulate new construction projects. At Hill Country Insulation, we know that the attic is one of the biggest problem spots in central Texas homes, so we focus on going above and beyond insulation standards to guarantee energy efficiency and comfort. We also insulate walls, ceilings and any potential crawlspaces or basements. Our dedication to increasing the standards and quality of your new home build is unsurpassed in the area.
Let us show you why we're the Texas Hill Country choice for new construction insulation! Contact us or call
Insulate your new construction project.
Increase your new build's energy efficiency.
What Our Clients Say
I am pleased to offer this recommendation for Hill Country Insulation, whom we currently use as our exclusive insulation supplier. Our company does mid to upper end, custom designed homes, remodels and renovations, all of which I personally oversee the design and construction of.
Tom Crider, Lake Ridge Custom Homes