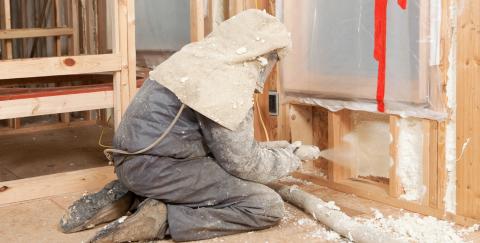 Since 2008, Hill Country Insulation has been providing homeowners with services to improve their homes, making buildings more energy efficient, comfortable and healthy. In order to help you find the answers you're looking for, we've compiled a list of the answers to our most frequently asked questions.
Do you have any questions about our services? Get answers today by contacting us or calling
Q: Where should I insulate?
A: Attics, outside walls, basement walls, floors over unheated garages or porches, cathedral ceilings and knee walls should all be well insulated. In addition, areas in between interior walls, ceilings and floors should be insulated for additional temperature and sound control.
A: Adding insulation above the minimum requirements helps to increase energy savings, provide greater noise control and control moisture to extend the lifespan of your home.
Q: If I add more insulation, do I need to remove what's already there?
A: R-value or thermal resistance is cumulative, so if your home's insulation is already in good shape, it may just need to be added to. However, insulation can degrade over time, so older insulation will probably need to be fully removed before new insulation is installed. Our expert team will determine what is right for your home.
Q: How much insulation do I need?
A: The amount of insulation your home needs is dependent on several factors including the age of your home, its construction style and its cooling and heating sources. Generally however, for attics in the Austin area, our goal (based on the U.S. DOE's standards) is to achieve R-49.
Q: What type of insulation do I need?
A: There are different types of insulation on the market that can be used in various locations in a home. Hill Country Insulation can expertly install the right kind of insulation to fit the needs of your home.
Q: Can a home be sealed too tightly?
A: Homes can, in fact, be sealed too tightly. The solution to this issue is to add appropriate ventilation. This will allow some fresh air in and keep indoor air quality high. Unfortunately, most homes actually have exorbitant amounts of air leakage that results in serious energy waste and high bills for their owners. A blower door test can determine just how much air leakage is occurring in your home.
Q: Why hire a professional to install insulation?
A: Proper insulation pays in the form of lower utility bills and reduced HVAC usage. You can also benefit with added comfort and increased home value. Professional installers are highly trained in the art of home efficiency, meeting building codes and achieving high R-values. We also know how to install insulation safely and effectively, helping you enjoy the results quickly.
Q: What is a radiant barrier and why do I need one?
A: A radiant barrier is made of a highly reflective material which helps reflect heat radiating from the sun onto your roof and into your home. In a climate like Texas, studies show that radiant barriers can reduce home cooling costs by 5-10%. In conjunction with insulation and air sealing, your home could save a lot of energy, reducing your monthly bills significantly.
Q: What are the differences between different gutter materials?
A: Different gutter materials offer unique benefits and potential drawbacks. Taking price and longevity into consideration, learn more here about which gutters are right for your home.
What Our Clients Say
I've worked with Hill Country Insulation for the past 4 years and they have been prompt, courteous, and passed inspections in a timely manner. Here recently, we have worked with them in performing our City of Austin Energy Audits and have begun having them do the HERS ratings.
Dale Thornton, BDB Ventures